Unlock the MORE command
Options that make it easier to use.
Looking for something else?
The more <filename> command pauses the display of a file after a page or screen has been displayed. When you press the spacebar the next page of text is displayed. This command offers several options beyond the spacebar that let you control how the remaining display is shown, and can be quite useful when examining large text files such as log files or configuration files.

Download this free guide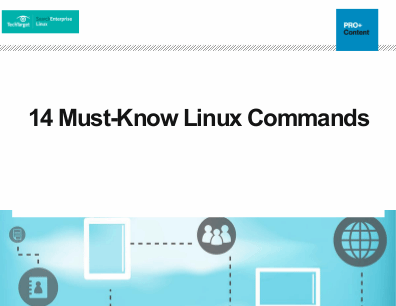 Download: 14 Must Know Linux Commands
Discover the top 14 must-know Linux commands for server administrators, with 2 bonus articles giving in-depth knowledge on the benefits of the "IP" and "Mount" commands.
By submitting your personal information, you agree that TechTarget and its partners may contact you regarding relevant content, products and special offers.
You also agree that your personal information may be transferred and processed in the United States, and that you have read and agree to the Terms of Use and the Privacy Policy.

Here are the options you can combine with the more command:
Spacebar. Forward a screen.
b. Backwards a screen.
Return. Forward a line.
/<string>. Go to the next occurrence of the string.
n. Find the next occurrence of string from your previous search.
h. View the more command help screen.
q. Quit the more command.
Remember more of these options, and you can save a lot of time.
---
Barrie Sosinsky is president of consulting company Sosinsky and Associates (Medfield MA). He has written extensively on a variety of computer topics. His company specializes in custom software (database and Web related), training and technical documentation.
Dig Deeper on Introduction to Linux system administration