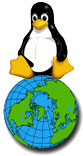 Find out the latest open source news and advice you can use from the LinuxWorld Conference & Exposition in San Francisco. Whether you're looking for info about virtualization, the state of the Linux desktop or anything else related to LinuxWorld, we've got you covered.
TOP STORIES
• Open Season: LinuxWorld wrap-up edition
Black Duck expands its knowledge base; Penguin Computing gets serious with AMD chips; Open Country gives developers more systems management tools; Trolltech does Linux mobile.
• LinuxWorld Product Review: The Nokia 770 Internet Tablet
Somewhere between a PDA and a laptop, Nokia's Internet Tablet uses software built entirely from open source components.
• New Directory Server capabilities coming in RHEL5
In the upcoming Red Hat Enterprise Linux 5 server distribution, Red Hat Directory Server will be more than a switchboard of IT information. Added identity management features will build up security while easing administration hassles, says Red Hat exec Mike Ferris.



MORE LINUXWORLD STORIES
• OSDL and the Linux desktop: The road ahead
Find out what successes the Portland Project's beta release has had and what lies ahead for the Linux desktop, according to OSDL's John Cherry.
• Sun exec thinks release will push Java further
Discover why a Sun exec thinks that releasing Java into open source will only benefit the company.
• Linux desktops: Graphics boost, virtualization add to stature
Open Source Developer Labs' John Cherry explains how Windows Vista delays and Linux desktop advances will raise the profile of the Linux desktop in the coming months.



LINUXWORLD PREVIEW STORIES
• LinuxWorld preview: The looming server virtualization I/O crisis
As more IT managers begin to virtualize processing and memory in data centers, one executive sees an I/O bottleneck forming in data center servers that needs to be dealt with today.
• Open Season: LinuxWorld edition
SpikeSource continues to bolster its VAR ranks; EnterpriseDB saddles up to Sun and Solaris 10; Linspire gives free Debian-based desktop Linux distro a push into the wild.



RELATED LINKS
• IBM opens up at LinuxWorld (MSNBC)
At LinuxWorld, IBM said a "fundamental expansion" of open source could lead to new products, profits, and customers.
• The open source revolution according to Lessig (ABC)
Creative Commons advocate Lawrence Lessig opened the LinuxWorld Conference by preaching to the choir with a keynote on the open source revolution.
• A slow start at LinuxWorld (NewsForge.com)
The LinuxWorld Conference & Expo lurched to a start on Monday at the Moscone Center in San Francisco with half-day tutorials and after-hours parties for the early birds.
• Oracle extends Linux validation program (Computerworld.com)
Oracle has doubled the number of Linux-based hardware packages that it has certified as running its database well.
• Phone enables Linux application tests (Techworld)
Trolltech AS plans to begin offering developers a Linux-based phone that can be used to test how mobile applications work on a live cellular network, the creator of software development tools said on Tuesday.
• Verio unveils Linux virtual private server (SYS-CON)
Verio, provider of hosting and managed services, unveiled the development of its award-winning Virtual Private Server (VPS) hosted service running Red Hat Enterprise Linux version 4. The offering will mark Verio's first time to fully support VPS services in the Linux environment.
This was first published in July 2006