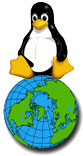 Find out the latest open source news and advice you can use from the LinuxWorld Conference & Exposition in Boston. Whether you're looking for info about the state of the open source revolution, the virtualization or anything else related to LinuxWorld, we've got you covered.
LINUXWORLD NEWS & TIPS
OS rating system streamlined and ready for primetime
After months of tweaking, the model framework for the Business Readiness Rating has been released and includes software taxonomies provided by IDC.
OSDL's Cherry: Toppling Linux desktop app development barriers
There's a good opportunity today for Linux desktops to attract knowledge workers, but more apps are needed, says OSDL's John Cherry. Too many distros are slowing down development.
LinuxWorld: Watching wikis, communities and GNOME vs. KDE
Although the penguin has definitely changed out of the tie-dyed tee shirt and into a three-piece suit, LinuxWorld still turns heads as the heartbeat of this vibrant community. Despite the presence of men in suits, this IT gathering focused on populist topics: the $100 laptop for every child, a fight between two free platforms and wikis.
When to mix proprietary code with Linux
Bruce Perens, co-founder of the Open Source Initiative, takes a break at LinuxWorld to talk with us about open source issues of the day -- licensing, lawsuits and enemy lines.
Open or Closed? The ODF debate spills into LinuxWorld
Versora chief technology officer John Walker lays out the facts from both sides of the debate in this article on OpenDocument and Microsoft Office Open XML.
LinuxWorld: Maintaining the impact of open source applications
We interviewed Maria Winslow, an open source analyst and author, at LinuxWorld. She minced no words advising developers, vendors and deployment tactics.
Open source BI gets down to business
Open source business intelligence may not cost less to implement, but more funds can be spent on services rather than licensing, a proponent says, and that means more customized BI.
LINUXWORLD PREVIEW STORIES
Splunk Base brings IT troubleshooting to the IT masses
Splunk is betting the combination of a powerful IT troubleshooting search tool and a global repository managed by IT pros will help combat data center complexity.
Virtual Iron adds Xen; aims for rival VMware
Virtual Iron's newest version of its virtualization software adds Xen's hypervisor. Now the startup is talking tough and taking on market leader VMware.
VMware exec: On free specs, virtualization's boost for Linux
VMware is opening up some specs, but there's no open sourcing in sight. But, a VMware exec sees virtualization boosting adoption of Linux and open source software.
RELATED LINKS
This was first published in April 2006