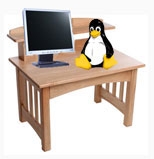 Is the time right to switch your company's desktops to Linux? In this report, analysts, authors, IT pros and vendors assess the state of the Linux desktop's capabilities and market acceptance. Get the scoop on the new release of OpenOffice, the open source alternative to Microsoft Office. You'll also find tips for migrating from Windows and making your open source desktop apps more user-friendly once you get there.

TOP STORIES
Novell: Consumers will lead the way to desktop Linux
Novell idea man Matt Asay makes predictions about the path of Linux desktop adoption and offers some insights into Novell's desktop Linux strategy.
Linux on the desktop nearly there, but not quite
Linux desktop technology has progressed greatly in recent years, but it's still very slow on the uptake. In this interview, Linux book author Edward Haletky explains why.
Sizing up the Linux desktop market, part 1
We talked to operating systems expert Tony Iams to find just how the Linux desktop market has progressed thus far -- and what lies ahead.
Sizing up the Linux desktop market, part 2
Operating systems expert Tony Iams explains which rising stars to look out for in the Linux desktop market, and offers advice for those mulling a move away from Windows.
Inside OpenOffice.org 2.0, part 1
OpenOffice.org instructor Solveig Haugland explains why the upcoming OpenOffice 2.0 is set to make her job a whole lot easier.
Inside OpenOffice 2.0, part 2
Solveig Haugland continues her review of OpenOffice 2.0 with descriptions of three new and highly anticipated additions to the open source personal productivity suite.
DESKTOP TIPS AND EXPERT ADVICE
Windows-to-Linux desktop migration tips: Why to switch, how to plan
Moving to Linux desktops is a good choice because the technology is superior to Windows, says Versora CTO Jon Walker. In this tip, he gives advice for choosing a distribution, moving applications, and easing the transition for users.
Linux desktops: Hacks, apps and enterprise use
Author Jono Bacon recommends favorite hacks from his book and discusses the growing enterprise acceptance of Linux on the desktop.
How secure is desktop Linux?
Security expert James Turnbull provides a comparison of Linux and Windows in terms of security and robustness.
Is there really hope for widespread adoption of Linux on the desktop?
According to expert Ken Milberg, Linux on the desktop may sink or swim based on the way vendors promote OpenOffice.
Do Linux desktop distros work for business settings?
Bernard Golden gives a note of assurance for companies considering Linux on the desktop.
RELATED LINKS
This was first published in September 2005