Richard Petersen's Red Hat Linux quiz (Answer key)
Richard Petersen's Red Hat Linux quiz (Answer key)
Looking for something else?
Answer to question 1
/etc/sysconfig/iptables
(back to quiz)

Answer to question 2
/etc/sysconfig/network-scripts/ifcfg-devicename, where devicename is the name of a particular device like ifcfg-eth0.
(back to quiz)

Download this free guide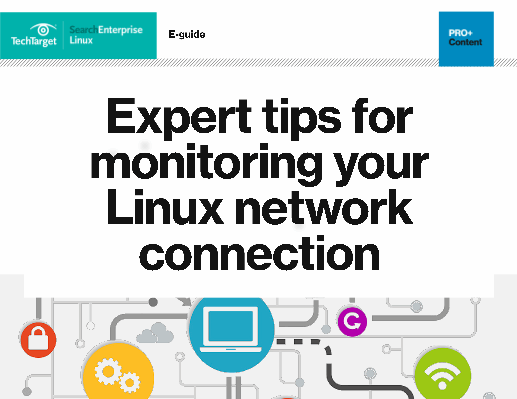 Download: Expert tips for monitoring your Linux network connection
Network connection failure: a common, yet extremely damaging IT pain point. Read this expert guide for tips and tricks on how to monitor your Linux network connectivity more actively, and how to troubleshoot and get back online quickly.
By submitting your personal information, you agree that TechTarget and its partners may contact you regarding relevant content, products and special offers.
You also agree that your personal information may be transferred and processed in the United States, and that you have read and agree to the Terms of Use and the Privacy Policy.
Answer to question 3
An A6 rule
(back to quiz)

Answer to question 4
Yes, an older less flexible one used called AAAA, and the current one, A6. Sometimes you have to mix both if one network is using the older one.
(back to quiz)

Answer to question 5
Yes, you need to use a CUPS printer server, even if you are running a standalone system and using your printer locally. CUPS has replaced LPRng.
(back to quiz)

Answer to question 6
The Grand Unified Boot loader, GRUB, has replaced LILO as the preferred boot manager.
(back to quiz)

Answer to question 7
Yes and maybe. You can configure GRUB to make Windows think it is the first partition, even if it is not.
(back to quiz)

Answer to question 8
Yes, use LVM (Logical Volume Management) to implement logical hard drives, separating management of physical partitions from logical memory access. Physical hard drives and partitions just become componenets of larger logical drives, to which you can swap and add physical drives transparently to users.
(back to quiz)

Answer to question 9
Yes, use Linux software RAID configuration tools.
(back to quiz)

Answer to question 10
i) No, you can use digital signatures to certify the authenticity of a non-encrypted message.
(back to quiz)


Let us know how you did and suggest a topic for a future quiz! editor@searchenterpriselinux.com
Dig Deeper on Red Hat Enterprise Linux Server