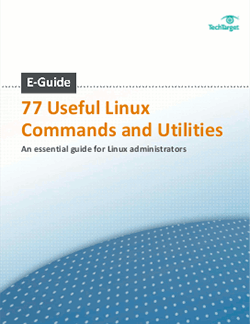 If you haven't ventured beyond Linux's graphical user interface (GUI), you're missing out on the chance to more efficiently handle tasks via a command line.
However, understanding the thousands, if not more, Linux commands and utilities just isn't realistic, even for the most seasoned IT professional. That's why the editors at SearchEnterpriseLinux.com have put together this exclusive cheat sheet of the 77 most useful commands to help reduce the learning curve associated with utilizing a Linux command line. 
Download now for instant access to this comprehensive guide that provides a description and instructions for these quintessential commands helping you to tap into Linux's advanced functionality – without needing a Linux dictionary.
This was first published in November 2013