Red Hat Summit 2010 on SearchEnterpriseLinux.com
The Red Hat Summit 2010 took place in Boston, Mass. and the SearchEnterpriseLinux.com staff were on site to cover news from the event. Virtualization and cloud were hot topics on day one.
Looking for something else?
At Red Hat Summit 2010 in Boston the major themes included Red Hat's KVM architecture and the state of the nation on open source virtualization and cloud computing. SearchEnterpriseLinux.com was on hand to cover the event. Check out our news blog posts, video and more below.

Download this free guide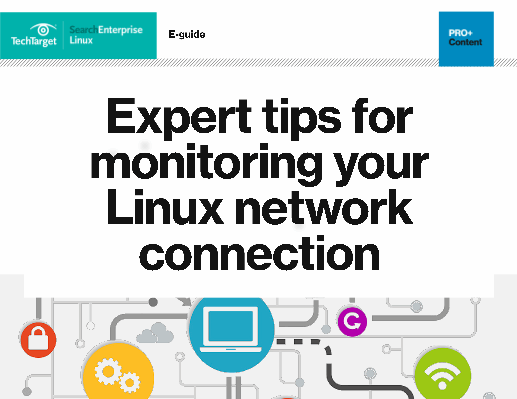 Download: Expert tips for monitoring your Linux network connection
Network connection failure: a common, yet extremely damaging IT pain point. Read this expert guide for tips and tricks on how to monitor your Linux network connectivity more actively, and how to troubleshoot and get back online quickly.
By submitting your personal information, you agree that TechTarget and its partners may contact you regarding relevant content, products and special offers.
You also agree that your personal information may be transferred and processed in the United States, and that you have read and agree to the Terms of Use and the Privacy Policy.
.
TOP STORY
Red Hat users enveloped by cloud, virtualization, cloud computing, virtualization and new features in Red Hat Enterprise Linux 6, which hits beta 2 next week, were the hot topics at Red Hat Summit 2010 in Boston.
Read this story.
RED HAT SUMMIT 2010 NEWS
Xen to KVM migration previewed, users wary
Beth Pariseau focused on the Xen to KVM migration tools previewed at the Red Hat Summit and shares the end-user feedback. Without the virt-v2v tool, the migration will be complicated and time-consuming. With the tool, it will be better, but you have to wait for RHEL 6.

Red Hat VARs report sparring for channel business
Barbara Darrow reports on the VAR reaction to recent Red Hat changes and additions in the virtualization, middleware, and cloud space along with Red Hat's direct sales option and how it is affecting the bottom line for channel partners.
Red Hat delves deeper in the cloud
SearchCloudComputing.com's news staff was on hand to cover cloud-related news at the Red Hat Summit. Find out about Cloud Foundations, the expansions to the Certified Cloud Provider Program and new Platform as a Service roadmap.
BACK TO TOP


RED HAT SUMMIT 2010 VIDEOS

Open source virtualization at Red Hat Summit 2010
In this interview, Navin Thadani, senior director of Red Hat's virtualization business, discusses the company's open source virtualization and cloud computing strategies.
BACK TO TOP


RED HAT SUMMIT 2010 BLOGS

Red Hat touts openness, then features locked-in Cisco UCS
Bridget Botelho reports that during the opening keynote at the summit, Red Hat VP Paul Cormier discussed Red Hat's open source advantage over competitors such as Oracle, then introduced Ed Bugnion, the CTO of Cisco's Unified Computing System, a technology that has been the frequent target of lock-in complaints.

Red Hat's plans for KVM
Colin Steele, the site editor for SearchServerVirtualization.com, visited Red Hat Summit to glean more on Red Hat's virtualization strategy and Kernel-based Virtual Machine (KVM) architecture.
The vision for KVM architecture vision is bold but the question is whether the company has bet on the right horse between KVM and Xen.

RHEV 2.2 includes Xen converter
Colin Steele, the site editor for SearchServerVirtualization.com, outlines the key features of Red Hat Enterprise Virtualization (RHEV) version 2.2, which was released on Wednesday.


BACK TO TOP
Dig Deeper on Red Hat Enterprise Linux Server