gOS (good operating system)
gOS (pronounced gee-oss) is a Linux distribution designed for use with Web-based applications rather than software that must be purchased and installed... (Continued)
Looking for something else?
gOS (good operating system) is a Linux distribution designed for use with Web-based applications rather than software that must be purchased and installed. The operating system was designed in that way to be lightweight and to keep costs low for the user. Walmart first offered the $199 gPC (a computer from Everex that runs gOS) in November of 2007 and quickly sold out of the product in all the stores that offered them. (However, the company subsequently announced that they would limit sales of the gPC to their online business segment.)
Download: Expert server OS buyer's guide.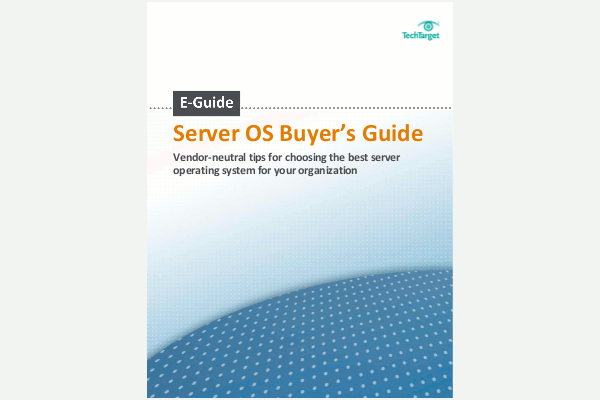 Ensure you choose the best server OS for your organization by reviewing a breakdown of Linux vs. Windows vs. other alternatives.
By submitting your personal information, you agree to receive emails regarding relevant products and special offers from TechTarget and its partners. You also agree that your personal information may be transferred and processed in the United States, and that you have read and agree to the Terms of Use and the Privacy Policy.

gOS comes up with a broad range of Google apps on the desktop, including (GMail), Google News, Google Calendar, Google Maps, Google Docs, Google Products, Meebo, YouTube, and Blogger, as well as interfaces to Firefox, Facebook, Skype, Wikipedia, Faqly and Box.net. The distribution also includes Open Office, various games, Gimp and Mozilla Thunderbird.
A beta version, gOS Rocket 2.0.0, was released in February 2008. gOS Rocket is based on the Ubuntu 7.10 distribution and uses the Enlightenment 17 window manager rather than the more typical GNOME or KDE desktops. The interface resembles the Macintosh OS X. Because Enlightenment functions both as an X window manager and a desktop environment, gOS works on all systems from a 350 MHz Pentium II and up, with as little as 196 MB RAM.
In an interview on fsckin.com, gOS founder David Liu was asked why the developers had chosen Ubuntu. "Basically it has to do with the Ubuntu community and vision," said Liu. "I like their mantra 'Linux for human beings.' I wanted to take it further, more like 'Linux for human beings who shop at Wal-Mart.'"
As of March 2008, gOS is available on gPCs from Everex, as well as separately as a download or on a LiveCD.
Continue Reading About gOS (good operating system)