Essential Guide
The VMware infrastructure monitoring encyclopedia
A comprehensive collection of articles, videos and more, hand-picked by our editors
Nagios
Nagios is an open source applcation that monitors a computer network for problems so that they can be fixed more quickly.
FROM THE ESSENTIAL GUIDE:
Nagios is an open source application that monitors for computer network problems so that they can be fixed more quickly. Nagios was designed for use with the Linux operating system, but it will also work under Unix and most Unix-based systems.
Download: IT Acronyms - A Quick Reference Guide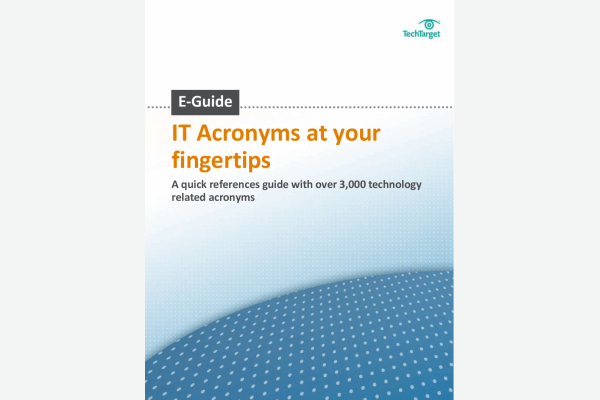 Download this free quick reference guide with over 3,000 IT acronyms; including a special section of the top 15 acronyms you need to know today.
By submitting your personal information, you agree to receive emails regarding relevant products and special offers from TechTarget and its partners. You also agree that your personal information may be transferred and processed in the United States, and that you have read and agree to the Terms of Use and the Privacy Policy.

Nagios runs periodic checks on user-specified resources and services. Resources that can be monitored include memory usage, disk usage, microprocessor load, the number of currently running processes, and log files. Services that can be monitored include Simple Mail Transfer Protocol (SMTP), Post Office Protocol 3 (POP3), Hypertext Transfer Protocol (HTTP), and other common network protocols. The program can monitor environmental variables such as temperature, humidity, or barometric pressure in conjunction with the appropriate measuring hardware. A user-friendly Web-based graphical user interface is provided. An authorization system allows the administrator to restrict access as necessary.
Nagios has proven popular among small businesses. Other users include Internet service providers (ISPs), educational institutions, government agencies, health care institutions, manufacturing companies, and financial institutions. Previously called NetSaint, Nagios was developed by Ethan Gelstad and refined by numerous contributors..
Continue Reading About Nagios